Alabama may be known for its college football teams, but there is a big junk yard market in Alabama. Plus there are ample junk yards in Alabama.
Alabama junk yards are skilled at operate car crushers and processing junk cars. Scrap yards in Alabama process thousands of junk cars per year and recycle thousands of tons of scrap metal. If you're looking for junk yards in Alabama, there are plenty located throughout the state. In fact, we work with Alabama junk yards and Alabama scrap yards to buy junk cars all over Alabama.
InstantOffer.com makes it simple to sell your junk car to Alabama junk yards. We work with scrap yards, junk haulers, and car buyers throughout Alabama to get the best prices for people like you. If you're in Alabama and you have a car to sell, look to further. Just give us a call at (844) OFFER-44 to get your instant offer today.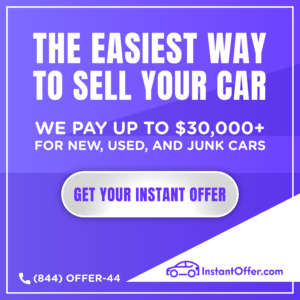 Junk Yards in Alabama
Woodstock Auto Salvage – Woodstock, AL
Jackson County Salvage – Scottsboro, AL
Scott's Auto Salvage – Nauvoo, AL
Auto Salvage – Huntsville, AL
Bobby's Auto Parts – Vance, AL
67 Auto Salvage – Somerville, AL
Atmore Auto Salvage – Atmore, AL
North Parkway Auto Salvage – Meridianville, AL
Alabama Scrap & Salvage – Gadsden, AL
Pull-a-Part – Birmingham, AL
Quinn & Sons Auto Salvage – Ozark, AL
Baldwin Auto Salvage – Summerdale, AL
Junk Cars Alabama – Montgomery, AL
Ken's Auto Salvage – Bessemer, AL
Stinnett Enterprises Auto – Woodstock, AL
Morris Auto Salvage – Andalusia, AL
Tucker Auto Salvage – Springville, AL
North Birmingham Truck & Auto – Birmingham, AL
Hamby's Salvage Inc – Lanett, AL
Hazel Green Auto Salvage – Hazel Green, AL
Joey Brock Auto Salvage – Cullman, AL
Heilmeier's Auto Salvage – Foley, AL
Alabama Truck & Auto Parts – Fort Mitchell, AL
Bevis Auto Sales – Florence, AL
Hokes Bluff Auto Parts – Gadsden, AL
Reid's Auto Salvage – Eight Mile, AL
Liscomb Auto Salvage – Bessemer, AL
Pull-a-Part – Mobile, AL